All About Concrete Cleaning And Why It's Worth It To Hire Professionals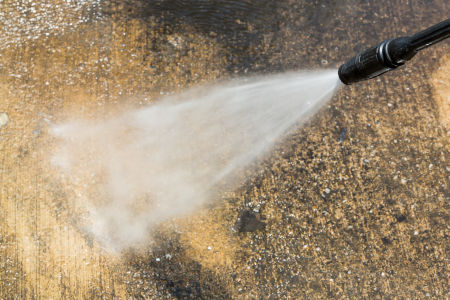 Professional concrete cleaning is more than worth it for the long-term benefits it brings property owners. Hiring experienced professionals, like the skilled pressure washers from Pro House Wash of Augusta, will help ensure that your driveway, dumpster pad, sidewalk, or patio, is properly maintained and give you peace of mind that the job will be done right.
As a porous material, concrete can benefit from regular pressure washing. Having your pavement professionally washed every 1-2 years helps extend the life of your concrete by preserving its integrity. Clean, strong concrete can help avoid premature damage like cracking and crumbling which can lead to an uneven surface and unwanted repair bills.
There are a number of ways property owners can choose to clean their concrete. While it might be tempting to turn to chemical cleaners or a DIY pressure wash job, both can yield unwanted or lackluster results.
Hiring professionals for jobs like driveway washing or sidewalk cleaning can save owners time and maintenance when it comes to cleaning their concrete surfaces.
If you're looking for a way to restore your concrete surface without hurting your wallet, professional pressure washing from the skilled clean team at Pro House Wash of Augusta is what you're looking for. Contact us today at 706-664-0885 to get started now!
Benefits of Professional Concrete Cleaning
Professional concrete cleaning is an efficient and effective way to keep your pavement looking its best. Besides saving your time and money, hiring a professional pressure washing company to take care of your concrete has a number of benefits.
Reduce Damage: Regular cleaning is a great way to preserve your concrete and reduce the potential damage that harmful contaminants can have. Removing deep stains from materials like grease and oil helps keep your concrete's internal structure intact and strong from the inside out.
Improve Your Property's Looks: Concrete surfaces like driveways and parking lots can take up a lot of room and can be impossible to hide. Professional services like sidewalk, parking lot, and driveway washing lift stains, removing layers of grime, and blast away messy weeds for a bright like new finish.
Ensures Great Results: If you're not experienced when it comes to cleaning concrete, hiring specialists is a simple way to make sure you get the results you're after.
How Professional Concrete Cleaning Works
Hiring a professional for concrete cleaning is worth it, as it ensures the job is done correctly and safely, with minimal disruption. There are a number of different routes cleaners can take to restore your concrete surface to its former glory.
One of the most used methods is pressure washing. Pressure washing makes light work of removing stains, weeds, graffiti, and general build-up that other methods like hand scrubbing can't.
Why not use chemicals? When it comes to chemical cleaners there is always a chance for damage or discoloration depending on how the chemical interacts with the stains and the pavement itself. Pressure washing reduces this risk.
When done by professionals, pressure washing is used on stains and debris to separate them from the concrete surface with little to no risk of discoloration or damage.
FOR ALL YOUR POWER WASHING NEEDS CONTACT Pro House Wash of Augusta