Blast Away Dirt And Grime With Augusta Driveway Washing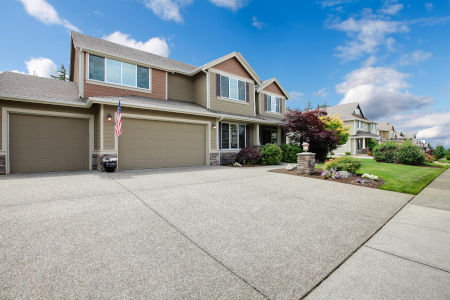 Are you looking for a reliable and affordable driveway cleaning for your Augusta home? Look no further than Pro House Wash of Augusta's premium driveway washing service! Our pressure washing services are the perfect solution for removing dirt, stains, and grimy build-up from your driveway. With the latest equipment and experience, our experts will quickly and effectively blast away dirt and grime, leaving your driveway looking brand new.
Pressure washing a driveway is an ideal way to keep it looking clean and well-maintained. In as little as an afternoon, our pros will remove dirt, grime, mildew, and other debris that may have built up over time.
Professional residential pressure washing services from Pro House Wash of Augusta can help homeowners restore their driveways to like-new condition with minimal effort.
Pro House Wash of Augusta professional driveway washing is an effective way to increase the property value of your home while also improving its curb appeal.
Ready to get cleaning, call 706-664-0885 to get started!
Professional Concrete Surface Cleaning: Keeping Your Pavement Pristine
Keeping a driveway or pavement clean and pristine is essential for any property owner. Professional driveway cleaning is the best way to ensure that your driveway or pavement looks its best all year.
While your concrete might look tough, driveways, sidewalks, parking lots, and dumpster pad washing are essential surfaces that not only make your pavement look great, but helps it stay strong. Professional driveway washing lifts deep stains that can damage the integrity of your concrete and lead to premature cracking and crumbling.
Exterior Concrete Cleaning To Make Your Property's Exteriors Look Great
Driveway washing is a popular and budget-friendly way to keep concrete surfaces looking their best and staying strong all year long.
Not only does regular driveway washing help maintain the value of your property, but it also helps protect it from damage caused by dirt, grime, and other contaminants like oil, grease, or automotive fluids. With professional concrete cleaning services, you can enjoy all the benefits of a clean and well-maintained surface.
Frequently Asked Driveway Washing Questions
Yes! Pressure washing is the ideal way to lift stains from your pavement. While chemical treatments might discolor your concrete or even damage it, professional driveway washing means pristine results without the risk of damage. Pressure washing is an effective way to keep your driveway looking its best and free of stubborn stains.
You bet! With professional driveway washing, you can get rid of tough stains from automotive fluids. The experts at Pro House Wash of Augusta have the right equipment for the job, that makes light work of removing dirt, grime, and other debris from your driveway without having to use harsh chemicals or scrubbing for hours.
FOR ALL YOUR POWER WASHING NEEDS CONTACT Pro House Wash of Augusta